PWC Board Approves Digital Gateway
Around 9:30 a.m. on November 2nd, the Board of County Supervisors voted 5-2 along party lines to amend the county's Comprehensive Plan to create the PW Digital Gateway data center complex
Supervisors Ann Wheeler (At-Large), Kenny Boddye (Occoquan), Andrea Bailey (Potomac) and Margaret Franklin (Woodbridge) voted in favor of the plan. Supervisors Yesli Vega (Coles) and Jeanine Lawson (Brentsville) voted against it.
"This is a bold plan and it will change the landscape of Prince William County," Wheeler said. The project, which proposes 27.6 million square feet of data centers on 2,139 acres along Pageland Lane, has quickly become the most controversial and contentious local land-use proposal in decades.
The vote came after a more than nine-hour public hearing, which eclipsed the length of the Planning Commission's hearing on the project, and a roughly 14-hour meeting. The hearing started at 10:37 p.m. Tuesday and ended at 8:08 a.m. Wednesday. The board did not vote until 9:46 a.m.
The project further encroaches on the Rural Crescent in western Prince William County, which used to be protected land until the Democrats took control of the Board of Supervisors.
Source: InsideNova https://www.insidenova.com/headlines/after-historic-14-hour-meeting-supervisors-approve-pw-digital-gateway-plan/article_f88f6518-5ab5-11ed-be16-c7ae6694aa4c.html
*******************
The PWC Social Justice Commission Opposes Digital Gateway
The Board of County Supervisors is scheduled to hold a public hearing Nov. 1 on a key first part of the Digital Gateway project. Many residents of PWC and local conservation groups oppose the project.
Prince William County's Racial and Social Justice Commission has joined the chorus of entities raising the alarm over the proposed PW Digital Gateway. At its meeting Oct. 20, the commission passed two resolutions raising concerns about the proposal.
The project, which calls for 27.6 million square feet of data centers across 2,100 acres along Pageland Lane, has quickly become the most controversial and contentious local land-use proposal in decades. Earlier this month, the county's Historical Commission also expressed opposition to the proposal.
The Racial and Social Justice Commission's first motion expressed concern about the potential impact that development in the corridor could have on areas historically significant to Black people who lived in the area.
County officials have called for preservation of graveyards throughout the area and studying the boundaries of the Settlement Community and Thornton School, which was created to educate freed slaves and was located at the corner of Pageland Lane and Thornton Drive.
"We can't remain silent on something we're obligated to do as a Racial and Social Justice Commission," said Commissioner Oliver Allen Jr. (Potomac). "It might not make a difference in the world, but at least we said something."
Commission member Mac Haddow of the Coles District said not having all the necessary information was a reason the board should not vote on Nov. 1. He said the commission could not say nothing when a global corporation was going to "stomp on the Black community" in Prince William County because it didn't respect that "oral history and family records substitute for government records when government records weren't kept for Black families."
"I feel like, in a project this large and this size, I would like to see more information about how this specifically impacts Black and brown community members and more detailed information that doesn't seem to be available at this time of the effect of data centers on the water quality," she said.
Source: https://www.insidenova.com/headlines/prince-william-countys-social-justice-commission-opposes-digital-gateway/article_db7110b8-565e-11ed-bcd5-c74b73cdae89.html
 *******************
Public Hearing Scheduled September 14th for PWC Digital Gateway
The Planning Commission will hold a public hearing Sept. 14 on the request to designate nearly 2,100 acres in western Prince William County for data centers.
The project, which proposes 27.6 million square feet of data centers along Pageland Lane, has quickly become the most controversial and contentious local land-use proposal in decades.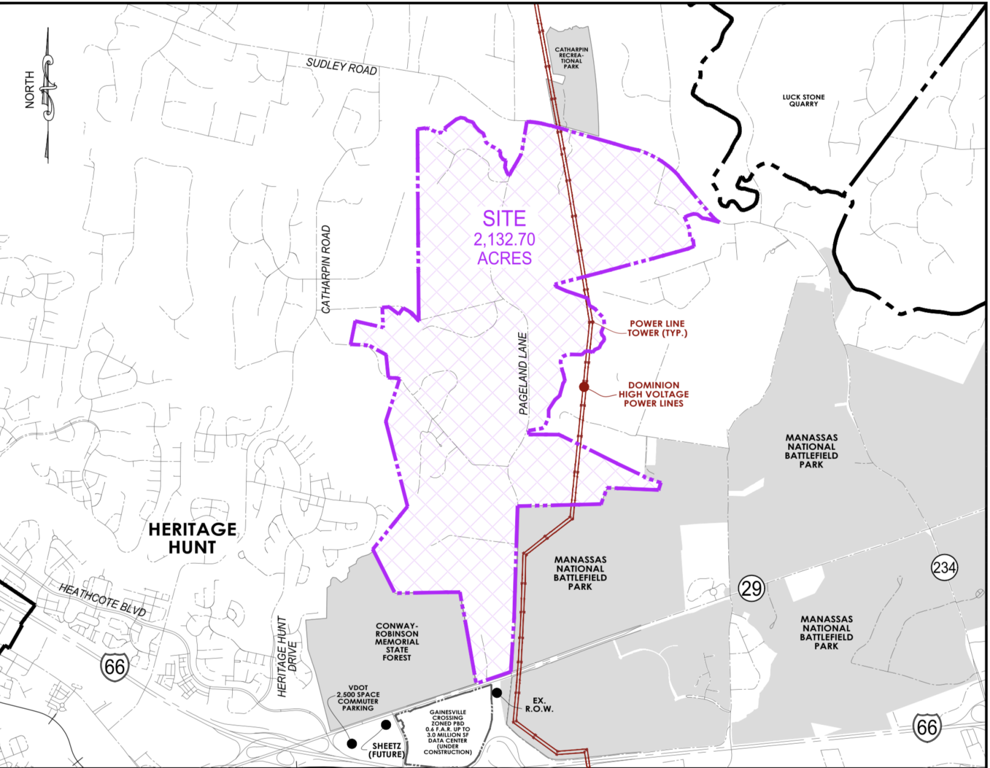 Opponents and proponents have launched personal attacks against each other, and it has spawned recall efforts against Gainesville Supervisor Pete Candland and Board Chair Ann Wheeler and a federal lawsuit against Candland.
Last summer, landowners along Pageland Lane submitted a request to change the land designation on about 800 acres in the Comprehensive Plan from agricultural zoning to technology zoning for the PW Digital Gateway.
The Board of Supervisors later expanded the request to cover 2,100 acres and, if approved, could pave the way for nearly as much data center space as is currently in use or under construction in neighboring Loudoun County, the world's largest concentration of such facilities.
Prince William County already appears on track to overtake Loudoun as the data center capital of the world as the industry has exploded with dozens of projects approved and more coming in on a regular basis.
Read the full story here: https://www.insidenova.com/headlines/public-hearing-scheduled-for-controversial-pw-digital-gateway-proposal/article_69c8d2ba-23e2-11ed-8518-970fbc2e88a3.html
******************************
Vega Wins Republican Nomination for the 7th District House Seat
Prince William Supervisor Yesli Vega clinched the Republican nomination in a low-turnout, six-candidate primary on Tuesday to challenge Rep. Abigail Spanberger, D-7th, setting up a general election showdown with a clear ideological contrast between the conservative and the "centrist" Democratic incumbent who has consistently voted with the Democratic majority in Congress on its far left agenda.
Vega's nomination in a redrawn Northern Virginia district sets up what likely will be one of the nation's most closely watched contests, a key to the battle for control of the House of Representatives.
*******************
Dems Preserve Their Far Left Agenda
In the 2022 General Assembly, Republican law makers filed numerous bills to roll back far left laws enacted when the Democrats controlled all branches of the Virginia government. The Republican House passed numerous bills to advance a more conservative agenda, but the far left Democrat-led Senate defeated most of them. Below is a summary of how major bills faired in this year's General Assembly Session.
2022 General Assembly_importance

*******************
Senate Democrats Gradually Killing GOP Agenda
Virginia Democrats are using their Senate majority to reject significant chunks of the GOP agenda and turn back attempts to undo legislation that became law under the previous two years of a majority Democratic legislature.
Despite last year's Republican wins statewide and for control of the House of Delegates, Democrats are using their 21-19 edge in the Senate to stop GOP legislation on charter schools, the minimum wage, guns, social issues and some of Gov. Glenn Youngkin's tax proposals.
Click here for the full story: https://richmond.com/news/state-and-regional/senate-democrats-disposing-of-key-parts-of-youngkin-and-gop-agenda/article_67529022-dad4-56c2-a86e-0651e26e0751.html#tracking-source=home-trending
*****************************
More Data Centers in Prince William County?
The county held a listening session on the PW Digital Gateway – a proposal to potentially pave the way for more than 27.6 million square feet of data centers along Pageland Lane, or nearly as much data center space as is currently in use or under construction in neighboring Loudoun County, the world's largest concentration of such facilities.
Supporters of the gateway say it will provide a huge economic boom to the county in an area that's no longer rural. Opponents say such large developments would decimate the character of the county's rural area – they have raised concerns about the availability of power, effects on water quality and the Manassas National Battlefield, plus the potential that the buildings could quickly become obsolete as technology continues to improve.
Read more here: https://www.insidenova.com/headlines/officials-get-an-earful-at-pw-digital-gateway-listening-session/article_46b79eac-8002-11ec-a9e3-c352289576f4.html
***********************
Bills Introduced for the 2022 General Assembly Session
Below are highlights of some of the bills that have been introduced for this year's General Assembly Session. (Source: Virginia Legislative Information System – LIS)
HB 22 (Del. Walker) Fundamental right to be free from medical mandates. Declares that, except as otherwise provided by law, each adult has a fundamental right to be free from medical mandates of the Commonwealth or any locality, private employer, health care entity or provider, or provider of public accommodations.
HB 24 (Del. Walker) Voter identification; identification containing a photograph required. Requires presentation of a form of identification containing a photograph in order to vote. The bill repeals the provisions of law permitting a voter who does not have one of the required forms of identification to vote after signing a statement.
HB 26 (Del. Anderson) Control of firearms by localities. Removes the authority for a locality by ordinance to prohibit the possession or carrying of firearms, ammunition, or components or any combination thereof in (i) any building, or part thereof, owned or used by such locality for governmental purposes; (ii) any public park owned or operated by the locality; (iii) any recreation or community center facility; or (iv) any public street, road, alley, or sidewalk or public right-of-way or any other place of whatever nature that is open to the public and is being used by or is adjacent to a permitted event or an event that would otherwise require a permit.
HB 103 (Del. Greenhalgh) Income tax deduction; eligible educators. Provides for taxable years 2022 and thereafter an income tax deduction of the lesser of $500 or the actual amount paid or incurred by an eligible educator, defined in the bill as (i) an individual who for at least 900 hours during the taxable year served as a Virginia licensed teacher, instructor, student counselor, principal, or student aide for public or private primary and secondary school students in Virginia or (ii) a parent providing home instruction to his child in Virginia, for qualifying expenses, defined in the bill as expenses incurred from participation in professional development courses and the purchase of books, supplies, computer equipment (including related software and services), other educational equipment, and supplementary materials used directly in service to Virginia students as an eligible educator.
HB 106 (Del. McNamara) Income tax; rolling conformity; report. Provides that, beginning with taxable year 2022, Virginia shall generally conform to federal tax laws on a rolling basis, meaning that Virginia tax laws incorporate changes to the Internal Revenue Code as soon as Congress enacts them.
HB 107 (Del. McGuire) Larceny and certain property crimes; penalties. Decreases from $1,000 to $500 the threshold amount of money taken or value of goods or chattel taken at which the crime rises from petit larceny to grand larceny. The bill decreases the threshold by the same amount for the classification of certain property crimes. The bill also provides that a person convicted of petit larceny, which is punishable as a Class 1 misdemeanor, shall be subject to a mandatory minimum term of confinement of 10 days in jail if the larceny was of a package delivered to a residence.
SB 104 (Sen. Morrissey) Elimination of mandatory minimum sentences; modification of sentence to mandatory minimum term of confinement for felony offenses; report. Eliminates all mandatory minimum sentences of confinement from the Code of Virginia. The bill directs the Secretary of Public Safety and Homeland Security to establish a work group to evaluate the feasibility of resentencing persons previously convicted of a felony offense that was punishable by a mandatory minimum term of confinement and to report its findings by November 1, 2022.
**********************
California Now Controls Virginia Auto Market
Virginia's automotive sales market is now officially controlled in Sacramento, with the likelihood that no new internal combustion engines can be sold in the Commonwealth after 2035.
The Virginia Air Pollution Control Board, acting not with discretion but on orders from the General Assembly, voted December 2, 2021 to adopt Advanced Clean Cars Program regulations that delegate ultimate control to the California Air Resources Board.  Virginia will simply follow Sacramento's lead in dictating an ever-increasing percentage of new car sales be certified as low emission or zero emission by the CARB.
Legally it would be similar to Virginia being forced to comply with federal regulations, except these rules will come from and be amended by California and its governor, regulators and legislature.  Who in Virginia gets to vote for them? No one.
Legislation in 2021 directed the Air Pollution Control Board to adopt these rules with no deference to the regulatory processes.  If you missed the usual public notices or hotly-contested public hearings, it may be because they didn't happen.  Media coverage has also been sparse.
Low emission (think hybrid) and zero emission (generally electric) vehicles are popular with many buyers already and will likely continue to be subsidized in various ways.  Their prevalence was going to grow regardless.  But it is California's goal to ban the sale of internal combustion vehicles and perhaps even low emission hybrids by 2035, as expressed in an executive order from its governor.
If and when that happens, under this new regulation it also happens in Virginia. No local action is required.  Perhaps that explains this ecstatic quote from the meeting reported by the Virginia Mercury:
"That is a very significant regulation. It will have a very positive impact on Virginia's environment," Mike Dowd, chief of the Virginia Department of Environmental Quality's Air Division, told the board after the measure's passage. "If it wasn't against state personnel regulations, I'd be popping a bottle of champagne now."
It was the language in the 2021 bill that overrode the Administrative Process Act's required reviews and public input that made this rocket adoption possible. That and Section 177 of the federal Clean Air Act, which made it possible for a) California to adopt fleet emissions standards more stringent than federal rules and b) other states to piggy-back on California's program.
The Transportation and Climate Initiative, no longer under consideration in the key states, was an effort to control the supply of motor fuels.  The CARB program seeks to reduce the burning of fossil fuels by limiting the supply of internal combustion engines.  A good explanation of how it works can be found here.  Several of the northeastern states that were to join TCI have already aligned with CARB before Virginia did.
The CARB program applies to the manufacturers, grants them "credits" for the sale of certified LEV and ZEV new cars, and then demands they must expend credits in order to sell uncertified cars.  Over time, the number of allowed uncertified internal combustion cars is to ratchet down.  If a manufacturer doesn't need credits for gasoline cars (think Tesla), they become a commodity which can be sold for profit.
The Virginia regulation, which can found on pages 5 through 19 of the agenda for the recent meeting, exempts the sale of used cars, transfers of existing cars, emergency vehicles, military vehicles, or a car sold in Virginia for registration in a state outside the CARB's reach.  Basically it covers new cars and light trucks under 14,000 pounds.
The General Assembly also adopted a state-funded subsidy program for the purchase of electric vehicles but didn't identify a funding source.   With the generous customer rebates on the table, Virginia's auto dealers joined in pushing for both the subsides and the alignment with CARB. Auto Dealers Association President Don Hall put its arguments in a guest column for the Richmond Times-Dispatch during the session, and also advocated tax-funded charging infrastructure.
"If Virginia wants to emulate California, the commonwealth also must match California's investment. A conservative estimate of California's financial commitment to the EV market — primarily through incentives and infrastructure — roughly is $3.5 billion," Hall wrote.  He said Virginia needs to spend $720 million over five years.
Long-term operating costs may or may not offset the bite, but these hybrid and all-electric vehicles right now sell for a premium price over internal combustion vehicles.  The financial benefit to auto dealers of forcing manufacturers to build more of the former and fewer of the latter is obvious.
The expected increase in electricity demand and related transmission expansions is not exactly breaking hearts among utility executives, either.
The added gasoline taxes from the abandoned Transportation and Climate Initiative might have paid for the proposed Virginia electric vehicle subsidies or that charging infrastructure.  Governor Ralph Northam, who embraced the subsides and this delegation of regulatory control to California, has one more budget to propose next week. Massive federal funds for those purposes are part of the Biden Administration "Build Back Better" proposal languishing in the U.S. Senate.
Northam could use his budget to propose a way to start paying the subsidies with state or federal funding.  It will actually be telling if he fails to do so.  But no additional state funding is needed to begin to implement the California vehicle fleet rules. It would take new legislation now to prevent it.
Source: https://jeffersonpolicyjournal.com/how-california-now-controls-virginia-auto-market/
 ***************************
REPUBLICANS SWEEP TOP THREE SEATS AND MAKE HISTORY
Republican Glenn Youngkin won the race for Virginia governor, defeating Terry McAuliffe in a race that's been watched around the nation as a bellwether for the 2022 midterm elections. The win is a major political turnabout in a state that had been trending increasingly blue. Republicans had not won a statewide race since 2009 when Bob McDonnell was elected governor. The GOP swept all three statewide races this election.
The Virginia GOP also made history by electing the first Black woman to the position of Lt. Governor. Attorney General-Elect Jason Miyares is the first Cuban-American to be elected to Attorney General. Democrats and the left-wing media conveniently ignore this historic milestone.
_____________________________________________________
VIRGINIA'S WAR ON FOSSIL FUELS IS HERE!
Thanks to the Thomas Jefferson Institute for this summary of the Democrats' war on fossil fuels.
Virginia's current leaders have declared war on fossil fuels.
Virginia's Democrats passed the Virginia Clean Economy Act, requiring an end to natural gas electricity generation, dependency on unreliable solar and wind power, and the clear-cutting of forest and farmland equal to 20 times the size of Manhattan.  They also imposed a carbon tax on electric bills.
They voted to allow regulators in California to impose engine fuel efficiency standards and electric vehicle mandates on Virginians.  When California's regulators ban the sale of internal combustion cars and trucks, so will Virginia's regulators.
Their next step will be to approve the Transportation and Climate Initiative (TCI) – an inter-state compact with 13 other Northeastern states.  It would raise gasoline taxes to 50 cents or more a gallon, impose gas rationing at the wholesale level, reduce revenues for road repairs and construction, and devastate Virginia's rural economy.  
The stated goal of its leaders:  End the use of gasoline and force you to subsidize someone else's new electric car.
Sign the petition here to stop the TCI: https://petitionbuilder.org/petition/stop-the-war-on-fossil-fuels-celg
***********
GENERAL ASSEMBLY WRAPS UP 2021 SESSION – RAISES FOR TEACHERS AND SOFT ON CRIME
The assembly voted to abolish the death penalty — making Virginia the first Southern state to do so — and legalize marijuana as of 2024. It voted to expunge criminal records for many nonviolent offenses and pushed to eliminate mandatory minimum sentences, although the latter effort ultimately failed in negotiations between the House and Senate.
By the time the House of Delegates adjourned at 11:12 p.m. on Saturday, the assembly also had agreed on proposed constitutional amendments that would restore voting rights for thousands of Virginians convicted of felonies. A proposed constitutional amendment would have to pass the legislature again next year before going to a statewide voter referendum.
All of the delegates representing Prince William County supported these drastic changes to existing laws that are soft on crime.
GA Wrap Up_022821

********
DEFORESTATION UNDERWAY IN VIRGINIA TO BUILD SOLAR FARMS
There are now over 240 projects underway and a planned installation of over 60 million solar panels in accordance with the "Virginia Green New Deal." Last fall, Dominion Energy stated that to meet the Virginia Clean Economy Act (VCEA) mandates, they project that 490 square miles of forests and farmland will be destroyed to fulfill the VCEA solar power plans. This means our beautiful Virginia landscape will be covered with millions of solar panels.
Democrats are forcing Virginia into their "Green New Deal" to clean up air quality, but are ignoring the long term effects of massive deforestation.
**********