New Laws Go Into Effect July 1, 2023
Governor Younkin signed numerous bills that go into effect July 1, 2023. Below are laws that will impact Virginians' daily lives.
2023 New VA Laws_1

2023 New VA Laws_2

************
Democrats Dump Ann Wheeler in Primary
Democrats and Republicans share concerns about the rapid expansion of data centers in Prince William County, all at the expense of the serene Fertile Crescent, tree and plant life, and quiet neighborhoods.
Deshundra Jefferson stunned the Prince William County political landscape Tuesday by defeating well-financed incumbent Ann Wheeler in the Democratic primary for chair of the Board of County Supervisors. Jefferson's victory marked voters' rejection of Wheeler and, in particular, a rebuke of her support for the county's booming data center industry. Deshundra Jefferson beat Ann Wheeler with 52.48% of the vote, to Wheeler's 47.52%.
Of note, through June 8, Wheeler had raised over $330,000 for her reelection campaign, while Jefferson had raised just $66,000, according to the Virginia Public Access Project.
https://www.insidenova.com/headlines/more-deshundra-jefferson-ousts-prince-william-board-chair-ann-wheeler/article_c10914d2-0fa4-11ee-b2aa-c783cd762909.html
2023 General Assembly Bills Heading to Governor for Signature
As Virginia lawmakers near the end of a short legislative session marked by partisan debates over guns, abortion and other contentious issues, they are also running behind on efforts to come to an agreement on the state budget.
But they have found bipartisan consensus on a range of issues, including attempts to address pandemic-related learning loss, improve college safety and rein in intoxicating hemp products.
Lawmakers worked their way through some of those and other measures Friday, ahead of what had been scheduled to be a final day of work on Saturday. But with budget negotiations still not settled, legislative leaders say they could return late next week for a vote on a compromise spending plan.
Here is a look at some legislation of note recently sent to Republican Gov. Glenn Youngkin's desk for his consideration.
YOUTH LITERACY
The House and Senate both approved legislation expanding the Virginia Literacy Act to require local school boards to provide reading intervention services to students in kindergarten through Grade 8 who show substantial deficiencies through reading assessments. The legislation expands the law enacted during the 2022 regular legislative session to address pandemic learning loss. It required intervention services for students in kindergarten through Grade 3. Macaulay Porter, a spokeswoman for Youngkin, said the governor supports increasing resources for reading and looks forward to reviewing the final legislation when it comes to his desk.
DEFINING ANTI-SEMITISM
A bill that would have the state adopt the non-legally binding definition of antisemitism used by the International Holocaust Remembrance Alliance passed with broad bipartisan support. The state would use the definition in training and education, and for tracking and reporting antisemitic incidents. The measure was a priority for Youngkin, who praised its passage in a statement Friday.
COLLEGE THREAT ASSESSMENTS
Both chambers approved legislation directing college threat assessment teams to quickly notify police if they make a preliminary determination that a person on campus poses a threat to others. The legislation was proposed in response to the fatal shooting of three students at the University of Virginia in November. The suspect in that case had been on the radar of the school's threat-assessment team. The legislation requires public universities in Virginia to obtain criminal history information and health records on a person who is deemed a threat, and to notify law enforcement agencies in writing within 24 hours. Youngkin supports the bill, Porter said.
HEMP PRODUCTS
A bill that aims to ban intoxicating consumable hemp products, which have proliferated on shelves around the state and in some cases sickened unsuspecting children and adults, passed Friday after a heated debate in the Senate. The measure would cap the total amount of THC in consumable hemp products at 2 milligrams per package and 0.3% total THC. And it would require topical hemp products to have a bittering agent. Supporters said it was a way to address a pressing safety issue, something Youngkin has called a priority. Opponents argued it would further complicate the state's cannabis laws. The bill would not move the state toward establishing a legal retail market for marijuana. The General Assembly legalized the possession of the drug in 2021 without setting up sales.
CATALYTIC CONVERTERS
A dramatic increase in the theft of catalytic converters prompted lawmakers last year to increase the penalty for the crime, from a Class 1 misdemeanor, which carries a up to a year in jail, to a Class 6 felony, which carries up to 5 years in prison. This year, lawmakers aim to create a new Class 6 felony charge for selling or purchasing catalytic converters — exhaust emission-control devices — that have been illegally detached from a motor vehicle. Youngkin supports the measure, Porter said.
CAR INSURANCE
A measure from Republican Sen. Frank Ruff would end the option for motorists to drive uninsured if they pay a $500 fee when registering their vehicle. "For whatever reason many years ago, the General Assembly created a $500 fee as an alternative to buying insurance. I have no idea what their thought process was at the time, or what policy that serves," Ruff said in a committee hearing. Ruff said he introduced the bill at the request of a logging industry trade group, which voiced concerns about collisions between its drivers and uninsured motorists. The bill has an effective date of July 1, 2024. Linda Ford, acting commissioner of the Virginia Department of Motor Vehicles, said during fiscal year 2022, there were 5,140 registrants who paid the fee out of a total of 5.8 million total vehicles registered. The Youngkin administration did not take a position on the bill, Ford said.
GUN STORAGE
Nearly all of this session's gun-related measures were defeated, with each chamber killing the other's bills. But a measure from Democratic Del. Alfonso Lopez has won bipartisan support. It establishes a tax credit for individuals who buy certain firearm safety devices, like a gun safe or lock box. "This bill is not about requiring people to do anything. It's not banning anything. It's not taking anything away. This bill simply gives a tax credit to try and incentivize something that many law- abiding gun owners already do," Lopez said in a subcommittee hearing. The bill says an individual will be allowed a credit of up to $300 for the cost of such a purchase. The provisions of the bill would end in 2027. Porter declined to say whether the governor supports it.
CRIME VICTIMS' RIGHTS
A measure from Republican Sen. Mark Peake aims to give crime victims more notice about potential plea deals. The bill, which passed both chambers with broad support, would require attorneys for the commonwealth to inform victims in any felony criminal case of a proposed plea agreement and obtain the victim's views about the disposition of the case. Peake said that currently, that type of consultation and notification only happens if victims request it. Peake said prosecutors would still have full discretion to determine how to proceed.
Source: AP News
***********
Good-bye, Rural Crescent!
After another all-night meeting that stretched until 4:30 a.m. December 14, the Prince William Board of County Supervisors approved the "Pathway to 2040," a controversial update to the long-range land-use plan that eliminates "rural crescent" protections while paving the way for at least 36,000 new housing units and more commercial and data center development throughout the county.
The vote came after a sometimes spirited nearly six-hour public hearing during which more than 50 speakers mostly voiced concerns about sprawl that would worsen traffic congestion, increase carbon emissions and overcrowd schools.
The supervisors held separate hearings on each of the five "chapters" of Pathway to 2040 on the agenda that night – land-use, housing, mobility, sanitary sewer and electrical utility services – before approving each in a party-line, 5-2 vote. All five Democrats voted for the plan while Republicans Jeanine Lawson (Brentsville) and Yesli Vega (Coles) voted against it.
Ironically, support for the plan came from the Party that has always valued land preservation, concerns about the environment, and conservation — until now.
*******************
PWC Board Approves Digital Gateway
Around 9:30 a.m. on November 2nd, the Board of County Supervisors voted 5-2 along party lines to amend the county's Comprehensive Plan to create the PW Digital Gateway data center complex
Supervisors Ann Wheeler (At-Large), Kenny Boddye (Occoquan), Andrea Bailey (Potomac) and Margaret Franklin (Woodbridge) voted in favor of the plan. Supervisors Yesli Vega (Coles) and Jeanine Lawson (Brentsville) voted against it.
"This is a bold plan and it will change the landscape of Prince William County," Wheeler said. The project, which proposes 27.6 million square feet of data centers on 2,139 acres along Pageland Lane, has quickly become the most controversial and contentious local land-use proposal in decades.
The vote came after a more than nine-hour public hearing, which eclipsed the length of the Planning Commission's hearing on the project, and a roughly 14-hour meeting. The hearing started at 10:37 p.m. Tuesday and ended at 8:08 a.m. Wednesday. The board did not vote until 9:46 a.m.
The project further encroaches on the Rural Crescent in western Prince William County, which used to be protected land until the Democrats took control of the Board of Supervisors.
Source: InsideNova https://www.insidenova.com/headlines/after-historic-14-hour-meeting-supervisors-approve-pw-digital-gateway-plan/article_f88f6518-5ab5-11ed-be16-c7ae6694aa4c.html
*******************
The PWC Social Justice Commission Opposes Digital Gateway
The Board of County Supervisors is scheduled to hold a public hearing Nov. 1 on a key first part of the Digital Gateway project. Many residents of PWC and local conservation groups oppose the project.
Prince William County's Racial and Social Justice Commission has joined the chorus of entities raising the alarm over the proposed PW Digital Gateway. At its meeting Oct. 20, the commission passed two resolutions raising concerns about the proposal.
The project, which calls for 27.6 million square feet of data centers across 2,100 acres along Pageland Lane, has quickly become the most controversial and contentious local land-use proposal in decades. Earlier this month, the county's Historical Commission also expressed opposition to the proposal.
The Racial and Social Justice Commission's first motion expressed concern about the potential impact that development in the corridor could have on areas historically significant to Black people who lived in the area.
County officials have called for preservation of graveyards throughout the area and studying the boundaries of the Settlement Community and Thornton School, which was created to educate freed slaves and was located at the corner of Pageland Lane and Thornton Drive.
"We can't remain silent on something we're obligated to do as a Racial and Social Justice Commission," said Commissioner Oliver Allen Jr. (Potomac). "It might not make a difference in the world, but at least we said something."
Commission member Mac Haddow of the Coles District said not having all the necessary information was a reason the board should not vote on Nov. 1. He said the commission could not say nothing when a global corporation was going to "stomp on the Black community" in Prince William County because it didn't respect that "oral history and family records substitute for government records when government records weren't kept for Black families."
"I feel like, in a project this large and this size, I would like to see more information about how this specifically impacts Black and brown community members and more detailed information that doesn't seem to be available at this time of the effect of data centers on the water quality," she said.
Source: https://www.insidenova.com/headlines/prince-william-countys-social-justice-commission-opposes-digital-gateway/article_db7110b8-565e-11ed-bcd5-c74b73cdae89.html
 *******************
Public Hearing Scheduled September 14th for PWC Digital Gateway
The Planning Commission will hold a public hearing Sept. 14 on the request to designate nearly 2,100 acres in western Prince William County for data centers.
The project, which proposes 27.6 million square feet of data centers along Pageland Lane, has quickly become the most controversial and contentious local land-use proposal in decades.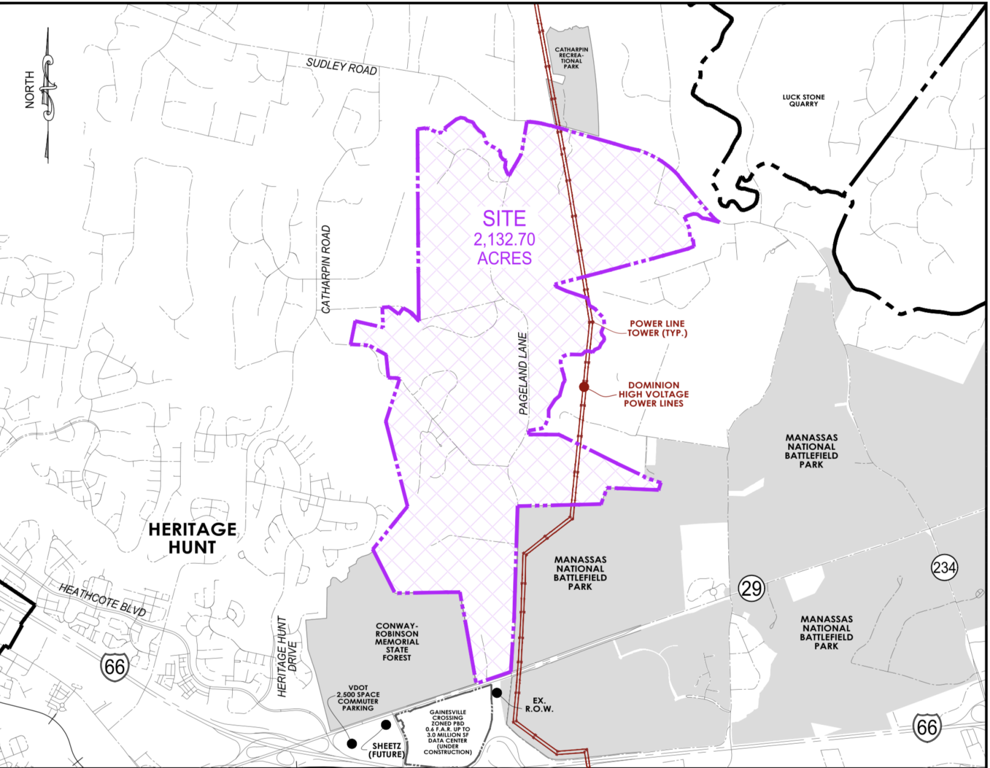 Opponents and proponents have launched personal attacks against each other, and it has spawned recall efforts against Gainesville Supervisor Pete Candland and Board Chair Ann Wheeler and a federal lawsuit against Candland.
Last summer, landowners along Pageland Lane submitted a request to change the land designation on about 800 acres in the Comprehensive Plan from agricultural zoning to technology zoning for the PW Digital Gateway.
The Board of Supervisors later expanded the request to cover 2,100 acres and, if approved, could pave the way for nearly as much data center space as is currently in use or under construction in neighboring Loudoun County, the world's largest concentration of such facilities.
Prince William County already appears on track to overtake Loudoun as the data center capital of the world as the industry has exploded with dozens of projects approved and more coming in on a regular basis.
Read the full story here: https://www.insidenova.com/headlines/public-hearing-scheduled-for-controversial-pw-digital-gateway-proposal/article_69c8d2ba-23e2-11ed-8518-970fbc2e88a3.html
******************************